Nathan Shedroff (from the
MBA in Design Strategy
program at the California College of the Arts) and Christopher Noessel from the well-known interaction design firm
Cooper
have recently released a new book analyzing the user interfaces shown in science fiction, as well as an
accompanying blog
to cover material that wouldn't fit in the book for space reasons, or came out after the release of the book.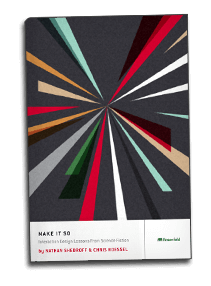 I've been following the blog for a few weeks now, and the more material they put up, the more I think that it's important that these kinds of discussions are put in front of the eyes of as many software development practitioners as possible, for the reasons they put forth themselves:
Being an interaction designer colors how you watch science fiction. Of course you're enjoying all of the hyperspacey, laser-flinging, computer-hacking action like everyone else, but you can't help but evaluate the interfaces when they appear. You are curious if they'll disable the tractor beam in time, but you also find yourself wondering, "Could it really work that way? Should it work that way? How could it work better? And, of course, Can I get the interfaces I design in my own work to be this cool or even cooler?"
We asked ourselves these questions with each new TV show and each new film we watched, and we realized that for every eye-roll-worthy moment of technological stupidity, there are genuine lessons to be learned—practical lessons to be drawn from the very public, almost outsider-art interfaces that appear in the more than 100 years of sci-fi cinema and television. Then we wondered what we would learn from looking at not just one or even a dozen of them but as many as we could.
As developers, it's important that we both find ways to expand the potential set of problems that we can address with our software, while making sure that those solutions are based in what researchers in the interaction design and HCI fields instead of just aping the ideas created by Hollywood production designers.
The blog is at http://www.scifiinterfaces.com/
The book (either paperback and digital bundled, or digital only) can be purchased from the publisher, Rosenfeld Media.