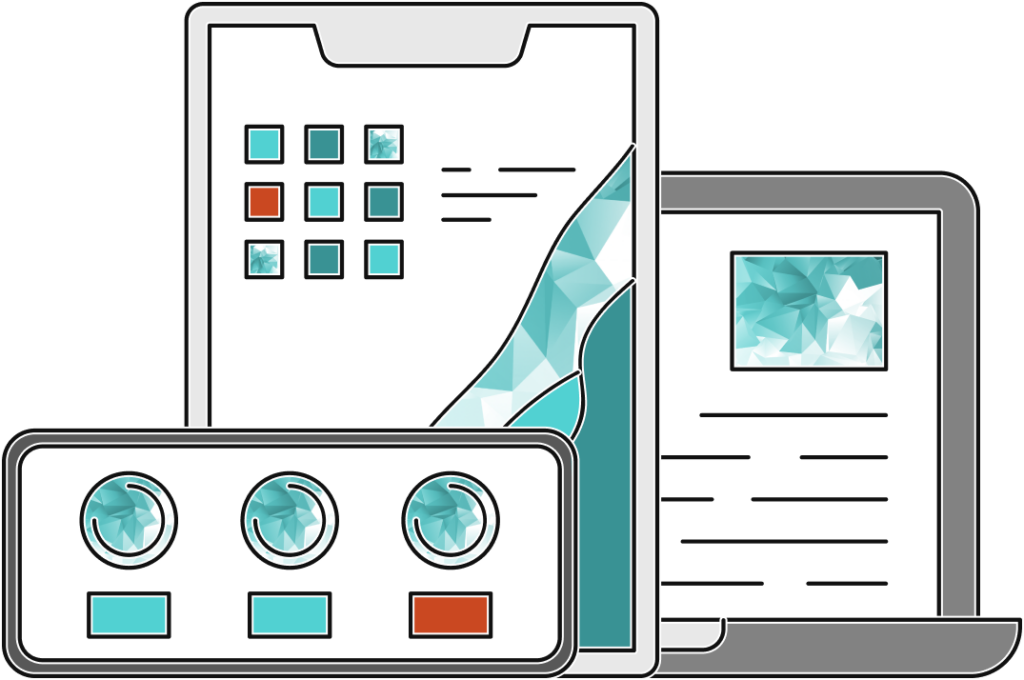 Don't miss an opportunity to take your business to the next level with a custom app designed and developed to meet your specific needs. 
What are the benefits of a custom-built application?
Boost revenue and ROI: 
Mobile apps offer a convenient and accessible way to do business, help increase sales, and improve return on investment.
Improve customer relationship management: 
Mobile apps can provide a direct line of communication with customers, allowing businesses to respond quickly to customer needs and concerns. A mobile app can deliver that same benefit within an organization, as well. 
Expand brand visibility and recognition: 
A well-designed app can help businesses reach new customers and opportunities.
Break down barriers: 
Mobile apps can provide quick and easy access to information, services, and products, anywhere, anytime.
Tailored to mobile devices: 
Provide your customers with a seamless and enjoyable interface that's intuitive, user-friendly, and designed specifically for handheld devices. 
Enhance your engagement: 
Mobile apps make it easier to engage and interact with your customers through push notifications and convenience. 
Smarter data collection and analysis: 
Get a better understanding of your customers and your market through better data collection and management. Learn more about user behavior, preferences, and areas where you can improve your services. 
When you hire Art+Logic you're working with an experienced, reliable development partner you can trust to solve even the toughest problems.
You've found a company with the chops, focus and experience to take on your complex or challenging project and provide you with the insight you need to make the right decisions at the right time.
Native iOS, Android, Responsive, Progressive. Objective-C, Swift, Kotlin or Flutter. Cross-platform development tools like JUCE, Cordova, and Xamarin.
Mobile application development is no longer synonymous with Apple, or even Native platform development.
Art+Logic has done it all – and with gorgeous UI's to boot. It's about picking the right technical approach out of many great options to best meet your needs as a business or product owner and more than 25 years helping our clients do just that, Art+Logic brings a seasoned and confident perspective to the table. Where once the mobile platform was the purview of quirky one-off games and simple marketing applications. Mobile apps have become integral tools in managing our lives, staying connected, and running our businesses. So, yes, we've created those addictive one-off games and compelling marketing apps.
Some of the types of mobile applications we created for our clients:
Hardware device controllers
Integrated in-field data collection services
Connected tracking devices
Content presentation tools
Educational and assessment platforms
Art+Logic's expansive development experience means that complex solutions leveraging the mobile platform are well within our expertise – you won't run out of developer muscle and experience building the solution you need.
From the beginning, Art+Logic has been on the innovative edge of mobile development, working with our clients to push the platform into what it has become for all of us.
"*" indicates required fields